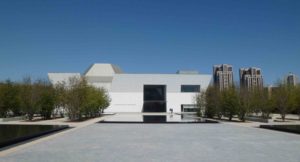 On Monday, December 12, I went to the reception for 240 high school students from Greenwood Secondary School and Marc Garneau Collegiate, at the Aga Khan Museum. The students have been creating works of art, at the museum, that personally reflect the theme of Finding Home. Given that the students come from all over the world and have arrived here in all sorts of circumstances, the pieces of art are very powerful and evocative sculptures of how they each define "home" in this part of their lives defined by transition.
This art project is part of the Aga Khan Museum's outreach and education program with Toronto schools, that we have been able to support, and a wonderful benefit will be welcoming the families of the students in the coming months to see their work in the amazing setting of the museum.
The Toronto Star had a great piece by Judith Timson on the show as well. To find out more about the school outreach program at the Aga Khna Museum, click here.